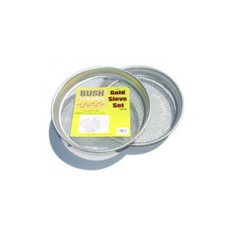 Lapidary
Two Piece Aluminium Sieve Set
Two Piece Aluminium Sieve Set
This 32cm wide Aluminium Sieve Set is lightweight, rust-proof, durable and specially designed for reliable performance. There are two differing sizes of mesh and the sieves nest beautifully winthin each other.  A must for the fossicker who likes to fossick for gemstones and semi precious stones in their natural state.  Works well with the fossicking pick and shovel as well as the folding pick mattock. It is a necessary tool for your fossicking and will also compliment your gold pan for the full experience.
Size: 6cm deep x 32cm wide
 *Due to monitor differences, actual colours may vary slightly from what appears online.